Houston TX Stormwater Quality Permits
The City of Houston & Harris County Stormwater Quality Permit Renewals
Houston and Harris County are unique in that they are the only entities in Texas that require both monthly inspections and annual re-permitting of stormwater quality features. Additionally, they are the only ones requiring a licensed civil engineer to certify the functionality of the system and its components. 
Navigating the process of stormwater quality permit renewals in Houston is our lifeblood; we founded our company on managing these permits for our clients. And we believe that taking this off our client's "to-do" list allows them to focus on more important revenue-generating activities.
The Permitting Process – Requirements
The Houston stormwater quality permitting process requires more than just an engineer.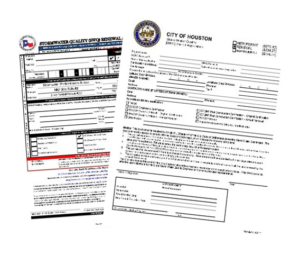 The feature may need to be cleaned out, or in the case of detention ponds, maintenance or even grading and overseeding may be necessary to bring the pond back into compliance.
The stormwater quality permit process in Houston requires time/date stamped photos to verify that the pond is in "As-built" condition. And in the case of end of pipe systems, a disposal manifest or most recent inspection report showing that sediment levels are below the manufacturer's required cleanout level will need to be submitted along with permit renewal documents.
In addition to the engineer's certification, a permit application and owner's affidavit will need to be submitted. The owner's affidavit states that the owner has complied with the permit requirements for the last year and will continue to do so in the following one. This document needs to be notarized as well to keep everyone honest.  
The Permitting Process – Challenges
The major challenge we hear from customers who attempt to obtain a stormwater construction permit in Houston themselves is that regulators are inconsistent in their approvals. Which sometimes leads to rejecting permits this year when they approved the same permits last year.
The problem is that compliance is often a judgement call on the regulators – who are only human. Because of this, compliance is often a moving target.
Unfortunately, not knowing what is and isn't compliant and hoping for the best can get you into legal trouble and jeopardize the engineer's seal.
The Permitting Process – Our Solution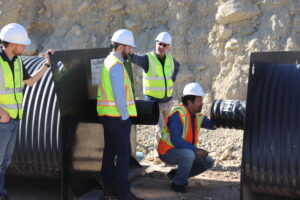 Our Houston stormwater quality permit team has over tw
o decades of experience in this industry
. We have cultivated
excellent 
relationships with
 regulators, allowing us to keep up with the nuance of stormwater
 quality permit renewals.
If a permit is rejected, we work closely with enforcement and our customers to quickly resolve these issues. And we never ask our engineers or owners to sign off on anything questionable.
Contact us today to schedule a complimentary site inspection for stormwater quality, construction, or TCEQ permit services in Houston. We can meet you on-site if preferred to walk you through the renewal process and your responsibilities as the owner of the permit or agent for the owner.  You can also find additional information about our stormwater quality permit services in Houston on our resources page.